It's been a long time again.
I have been a little busy to keep up the blog, but I will try once I have some news to tell.
For my son's Summer holiday will be end soon…..
I had a home work myself for his Japanese school. Traditionally September , October is the sports event season in Japan.
He will join the event for the first time in Scotland.
My home work is making bean bags.  One of the competition to throw bean bags into the high placed baskets which are for Red team and White team
to fight against each others.
夏休みもあとわずか。。子供の通うスコットランドの補習校で、親にも宿題が課されていた!!
秋の運動会の玉入れの玉作り!例年代々足すだけで良かったらしいのですが、今年は、入れ物にねずみが侵入したらしく、お豆などが入っていた玉を
食べられてしまったという事で、急遽親の宿題という事で、各家庭一応4個ずつという事で、布を配布されました。ミシンもある事ですので、少し多めに
作ってみましたが、引っ越したばかりで、そうそうあまり布もないのですが、子供の少し小さくなった洋服などを、切ったりしながら詰め物にしました。
(ねずみのえさになるものは禁止)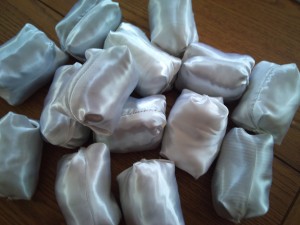 I used a old clothes to stuff bean bags.
I used white material ( you can choose Red or White ). I used lots of dark colour that may show
the stuffing through…
Never mind. They are strong enough and heavy enough to throw into high basket.
まあ、白が故中身の模様がみえちゃったりするのですが、しっかりと重みと
ステッチが施されているならば、使い物にはなるでしょう。
家でお仕事をしているので、夏休みに大したこともしてあげられず、かわいそうなのですが、共通項として、エアショウがあるので、
エジンバラの先のエアミュージアムにてのエアショウにピクニックがてら行ってきました。
ロンドンでは、近くにRAFミュージアムがあったので、プレイグランドとして、よく利用させていただきました。
ロンドンから1時間半ほど西に行ったファーンバラエアポートのエアショーは大掛かりで、すばらしかったのを思い出します。
あの時は、A380というエアバスが出来たばかりということで、ジャイアントエアバスの飛行を目の当たりにしたのですが、
重さといい、音といい、飛行機の可能性ってすばらしいと感じました。
日本に居た時は、福島の農業飛行場で、毎年レッドブルの飛行士が曲芸の飛行を見せてくれて、すばらしく爽快な気分を味わいました。
今年のスコットランドのエアショーは、初体験のウィングウォーカー。2機の飛行機の翼の上で一人ずつ女性が曲芸をするのだが、
おお、なんと飛行機は無常にも大回転や、左右に揺れたり、しかも女性たちは、勇敢にも翼に寝転んだり。逆立ちしたり。。。
となりに席を構えていた年配の女性なんか、がまんできずに手で目を隠しておられました。
We love going to the air show. When we are in London, we used to live near RAF Museum. And used to be almost my son's playground.
Whenever we have chance, we went to Airshow. Farnborugh air show was fantastic. We saw giant commercial air craft Airbus A380.
Unbelievebly big and scary noise and heavy lifting. I was amazed such a big plane can fly.
When we are in Japan, we used to go rural airport for Redbull pilot display in beautiful mountain top airport.
This year, we went to near Edinburgh, Air museum's air show.
We prepared camping sheets and sandwiches and my husband special lunch for his diet.
Fantastic weather and lots of World war displays. good weather for picnic.
Classic bi-plane display and Super sonic Euro fighter Typhoon booming and breaking the ear drum,  amazing wing walkers…. on the flying plane.
and did loop to loop…..Lady next sheet couldn't bear to watch…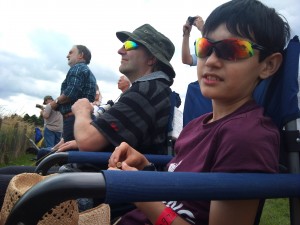 But near the end, we had to quickly pack and back to car. Dark clouds didn't hold on.
Fantastic Typhoon and Black hawker hurricane duet flight gave us vibrations on the tummy.
My son bought real bullets for Spitfire with his pocket money.
One for him and one for his best friend.
Hope his Air craft developer dream will come true!
お仕事の話。ようやく日本に帽子を送ったところ。今年は45点。袴に合うようにというデザインで作らせていただきました。
パフォーマンスが見れないのが残念ですが、今年も盛りだくさんの無いようだとご連絡いただきました。
まだイベントが行われていないので、写真は控えますが、軽く、通気性がよく、どなたにもサイズが合うようにというのを工夫しました。
昨年は、生け花の先生とご一緒にさせていただきましたが、また、一緒にお仕事させていただけるよう、スコットランドからご成功お祈りしてます!
I just sent 45 hats to Japan.
She organize fantastic stage every Summer at cool Mito Contemporary Art Museum.
Last Summer I made 3 different style hats for dance team around 45 people.
Also, great flower arrangement artist used 20 of my hats as flower arranging performance.
This year, I was asked to make 45 hats to match with contemporary Hakama style outfit.
I made the hats to be light and airy and flexible size to everybody.
Hoping to succeed from Scotland!