This 2013 started 6 days ago, First of all Happy New Year!!
Very first day of 2013, it was wonderful sunshine with chilly air. We decided to go for
New Year Walk and in my son's case New Birthday bike trial.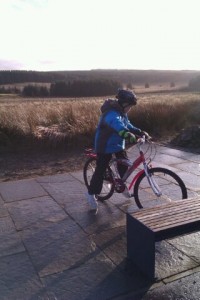 We followed new local boy ( our son ) for local paths.
As we followed we saw so many little play areas we hadn't seen before.
Kids always discover the things fast.
まずは新年明けましておめでとうございます。
新年早々、快晴と耳も縮む寒さの中、我々夫婦は歩き、
息子は前日の誕生日に貰った自転車の初乗りに出かけました。
大晦日前夜、日本の家族と連絡を取りましたが、
新年も挨拶兼ねて、連絡しました。技術進歩のお陰で、
海の向こう側から時間を感じずに顔を見ながら、しゃべるのも問題なく出来るようになったのは、
本当に感激ですよね。
The night before we contacted my Japanese Family.
And New years day, too. Thanks to new tech, we can
contact no problem, seeing and talking at the same time.
Before school started, me and my son went on a train trip to Glasgow to see friends from Japanese school.
I was trying to take a shot of a bin… but boys are posing for my camera!!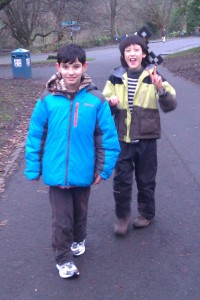 The reason I was taking shot, because bin in the park looked like a 'Tardis'.
Glasgow has a history of Only Police Box coloured in blue.
I think it is a very cool bin. and it is a recycle bin, too.
Perhaps, preparing for Glasgow 2014!!
学期の始まる前に、グラスゴーの補習校での友人宅に遊びに行ったときに
公園で発見したゴミ箱を撮ろうとカメラを構えていると、子供たちがポーズしてくれたので。。
このゴミ箱 Dr.Who の ターディスのような形。グラスゴーは警察ボックスがただひとつ青く塗られた土地で
ある歴史からかな?などと思っていたけれど、このゴミ箱リサイクル用にこまごまと入り口が分かれている。
そういえば、グラスゴー2014のイベントの準備でもあるのかなと思ったりしているところ。
We are enjoying the walking in countryside. The other day, I heard a rumor about delicious cakes availale at my son's local golf club.
So I dragged my husband and son to there instead of zoo. Unfortunatelly the cafe was closed until 15th January.
But there is a very good walking course in the golf course. I was amazed at the local rule which said ' Dog owner must use the lead'.  And I saw a
group of golfers using a lead to guide 3 dogs!! How good is that! I love this country already!
カントリーサイドを歩く楽しさを知った後、動物園に行ってみようと出かけながら、おいしいケーキが息子の通うゴルフクラブの中で食べれるらしいよと
いううわさの場所にまんまと連れて行くことになったが、残念ながら15日まではお休みという事で、ケーキは食べられなかったが、
ゴルフ場の中の散歩道を歩くことに。ゴルフ場のローカルルールの内容を読んでいると、犬はリードをつけるべし!と書いてある。そして、歩いていくと、
現にゴルファーが3匹のダックスフンドを連れて周っているところだった。なんと大らかな!!更にこの国が大好きになった瞬間でもあった。