カントリーミックスというのを使ってスープを作るのに、豆を付けておいたのが3月11日。意識はしていないが、追悼の意味もあるかな。
その中で、いくつか取り除き、豆を育て始めたら、ぐんぐん育ち始めて、そろそろ土が必要だが、
なかなかチャンスが無く、土を入れられずにいる。でも直に庭に植えてしまったほうがいいだろう。
バラも、そろそろ植え替えたいのだが、どこに植えようか決めていないので、なかなか植えられずにいる。本当は、家の前の所に
穴を開けて植えたいと思っているの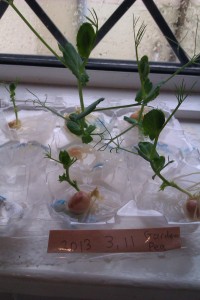 だが、アスファルトが敷いてあるので、迷っているところだ。
Soaking country mix to make the soup. I picked few pea in the tray and grow them with my son.
Start growing quickly, needing soil soon. I don't have time for this and pot of rose, too. I would like to plant
in front of house. But surface covered with tar.
これは、うちの桃ちゃん!レッドオーナーという種類。
どんなのが育つのか楽しみだ。今年は花が見られるかは分からないけど、桃や桜は花も実も楽しい!
This is our peach tree!! I don't expect see the beautiful flower this year, but looking forward seeing them and taste them, too!!
明日からは、Ayrという所でScotlandGrand National が始まる。土曜日は都合が悪いので、見学にいってこようかなと思っているところ。
帽子も用意したので、もしもいったならば、またレポートします!
From tomorrow, Scottish Grand National will start! I can't go on Saturday, so I am thinking to see tomorrow with my winning hat.
If I go, I will report it !!