Bespoke Hats
If you would like a bespoke hat made for you by Toshiko Cave, then please use the contact form, and she will get in contact with you to discuss your requirements.
You can also email Toco at toco@tocofashion.com . Or contact via Telephone (mobile) : 07449 627 985.
Business hours : 10am till 5pm Monday-Friday,by appointment
London time zone.
Your dream Bespoke Hat
Hats are a personal thing. Some people are satisfied buying a standard hat from a shop. Others want something they have in their mind's eye which cannot be bought from the high street.
Alternatively, already have a hat, but doesn't match your outfit or accessories? Toco can change it to match!
This is where Tocofashion can be of service. We can make the hat of your dreams!
Price
Price of a bespoke hat will vary, depending on size, choice of materials, and how much work goes into the making. As a guideline, a bespoke smaller headpiece or fascinator would start from £35.   Brimmed bespoke hat would start from £150.
These prices include the supply of a hat box .
Note: Hat box standard size are brim size of  46cm ,32cm, 23cm. Extra size will be charged for special order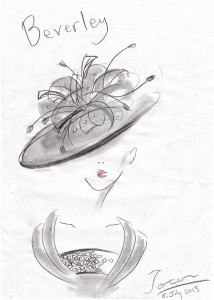 We also have a collection of hand-made Hat pins, Alice bands, headbands, and corsage in various styles for any occasion. These can be made with Tartans, Tweed, Silk or other materials at your request. 

Prices range from £10 upwards, depending on work required and desired materials.
Deposit
When placing your order, a deposit over £30 will be required, which is non-refundable, and will be deducted from the final invoice amount upon  completion of your hat being made.
Time
For bespoke hats please allow for at least 4 – 6 weeks advance notice, although Toco will always try to accommodate those "last minute" orders if she can.
Your hat will be made with Toco's legendary care and attention to detail, according to your dream design, making you feel great about yourself.